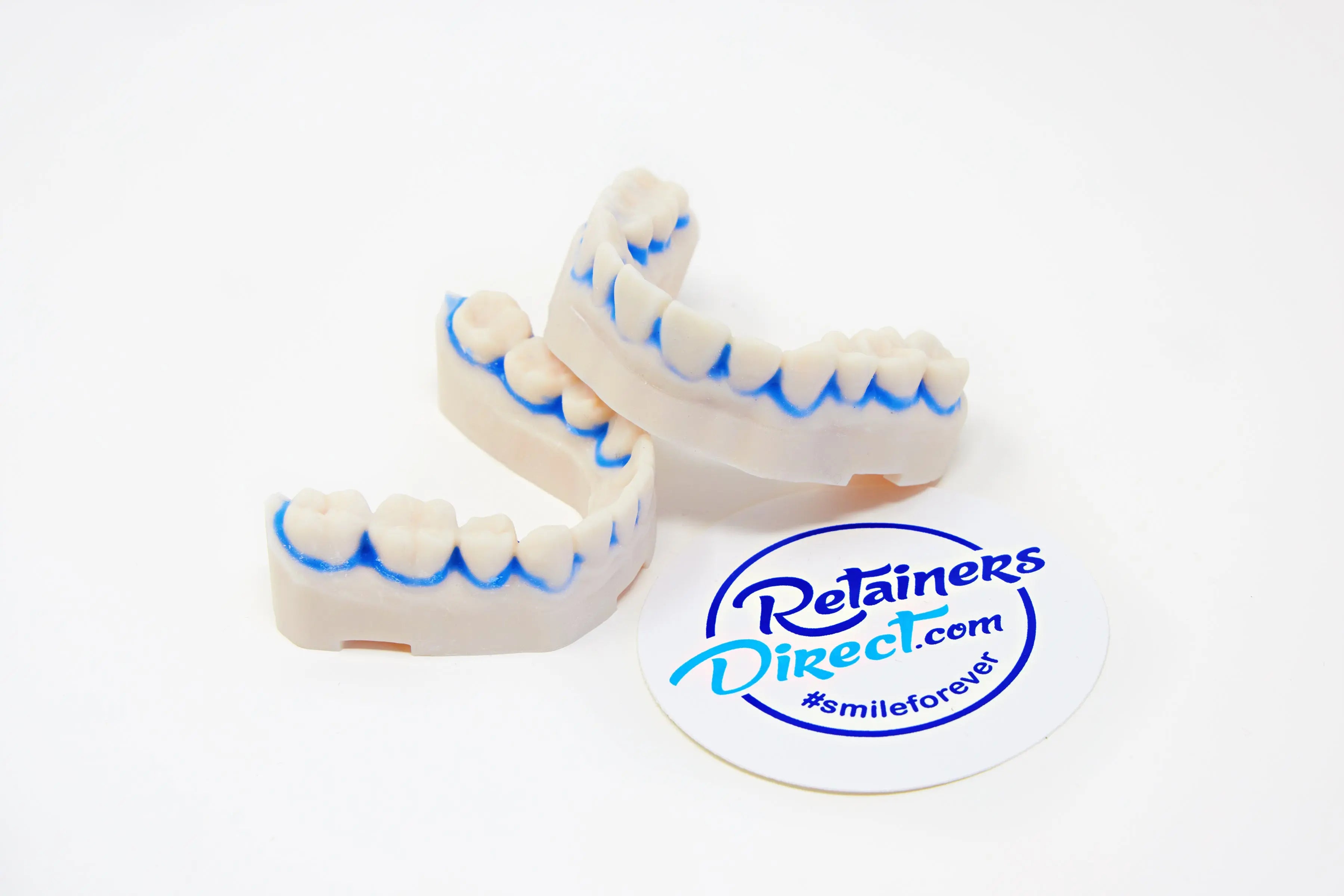 ★★★★★ 4.6 from 848 customers
From your perfect impressions (or a scan from your orthodontist) we can make 3D printed models that we will send to you. These can be used over and over to make replacement retainers in the future as long as your teeth don't move.
---
Frequently bought together
Free shipping on orders over $149
Orthodontic Certified

Fast Shipping
Perfect Fit Guarantee
Don't order. I ordered on October 25, 6 weeks later I still don't have my retainers. They did refund me which was nice, but I contacted them multiple times about when they would be finished and they kept telling me by the end of the week and I never received a tracking number or my retainers. Very disappointed
They've had my retainers over a Month. They promised 12-14 business days before it was shipped out. It's been 20 days and now they won't respond to emails. They promised it would be shipped out end of last week. That did not come true
Perfect :)
The whole process was wicked easy and affordable. They even had to make modifications to my molds and they still fit very snug. Overall great customer service.
Impressed for sure!
I have such a bad gag reflex so was worried about doing the molds for my retainer but I was able to do the best I could and even though there were some distortions they were able to make my retainer and it's a perfect fit! Impressed for sure!
Loving your smile has never been easier
Gone are the days of having to spend thousands on retainers with your local orthodontist. With Retainers Direct, we make it quick and easy to order your custom clear retainers or dental accessories at a fraction of the cost. Plus, they are shipped right to your door!
Frequently Asked Questions
How do the retainers work?

In the beginning, we will send you an at home impression kit with instructions on how to capture a perfect impression of your teeth. Don't worry, it is not difficult! It is very important to get an ideal impression so Retainers direct can make a perfect model of your teeth. From these models, Retainers Direct will fabricate beautiful, clear and comfortable retainers that fit intimately around your teeth. Remember, these retainers will simply hold your teeth where they are and prevent further movement. They will not straighten your teeth!

CLEAR RETAINERS WILL NOT STRAIGHTEN YOUR TEETH BUT INSTEAD JUST MAINTAIN THE TEETH IN THEIR CURRENT POSITION!
Will these retainers straighten my teeth?

Retainers are made to just hold your teeth in their current position so they don't move over time.

OUR RETAINERS WILL NOT MOVE OR STRAIGHTEN YOUR TEETH.
How many hours per day do I have to wear the retainer to keep my teeth from moving?

This is a tricky question because everyone is different. Some people's teeth have a tendency to move faster than others and a few very fortunate people's teeth may not move at all. The great news is it is simple to adjust your wearing habits to meet your individual needs. The retainers conform to each individual tooth and fit snugly but passively on the teeth. If slight movement occurs while not wearing the retainers than those retainers will feel tight (because the teeth moved slightly) when placed back on the teeth. If this movement is very small the retainer will move the teeth back to their initial position and the retainers will become passive again. Ideally, we want you to wear the retainers enough time to keep the teeth from moving and allow the retainers to always be passive (not actively moving teeth but instead just holding them). For most people 6-8 hours per night is sufficient to keep teeth from moving.
Can I whiten my teeth using my new clear retainers?

Absolutely, our clear retainers are ideal for at home whitening and Retainers Direct is proud to offer several options to brighten your smile. Alightener Foam is brand new product that is both a tooth whitener and retainer cleaner and disinfectant. This product is ideal for people with very sensitive teeth and as a "touch up" to keep your teeth white and your retainers bright. Retainers Direct also offers a whitening Pen that is an ideal way to whiten your teeth with minimal risk of sensitivity. This pen is ideal to drastically lighten your teeth in the comfort of your own home. The whitening agent is 14% Carbamide Peroxide which is ideal to maximize whitening and minimize sensitivity.